About a week ago, I had the pleasure of getting to know a local artist based in Chicago. Grace Hall, 21, is an interdisciplinary artist currently attending the School of the Art Institute of Chicago. Her work consists of all mediums, using "bold and unusual colors" with themes originating from "untold stories of the past, present, and future". Currently residing in Nashville, Grace agreed to let me ask her a few questions about her creative process and how she defines being an artist during times like these.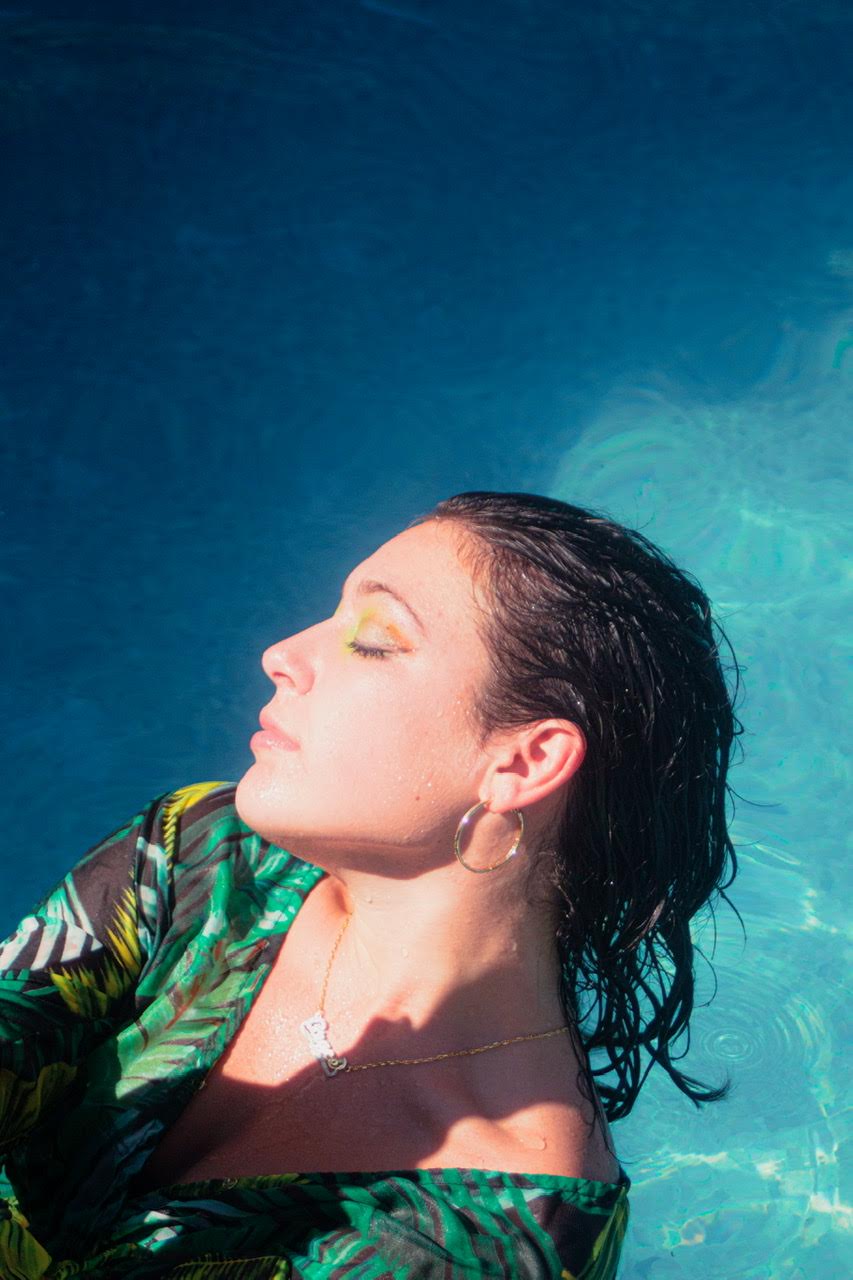 For starters, I got excited when I saw that you were from Nashville. It feels good to talk to another Tennessee native. How do you think growing up in the South has influenced your art, if at all?
"My family and I moved from New York to Nashville when I was around the age of seven. Moving to Nashville was such a drastic change culturally. Overall, I love it here and believe that Nashville is a community for the arts and collaboration. I've met some of the most driven artists of all kinds that have inspired me and led me to amazing opportunities within other art genres, like meeting and collaborating with musicians, photographers, filmmakers, poets and much more."
According to your bio on your website, you call yourself an interdisciplinary artist. Working in a creative industry, every artist has their own reasons for creating. What does being an artist mean to you?
This is a very interesting question that I seem to think about a lot. For me, I believe there are no limits to being an artist. With the label of an interdisciplinary artist, I deeply value the importance of indulging in all forms of art making. Over the years I've studied painting, drawing, sculpture, graphic design, collage, printmaking, wood and metal working and somehow I have incorporated all of those skills into one main idea."
There is no doubt that quarantine has affected all of us in some way, especially us creatives. How have you been holding up during this time? Has it been harder or easier for you to create and stay inspired?
With the chaos that Covid-19 has brought to the world, I try to see the optimistic side of it. Of course, I have had very low points questioning my existence in an isolated world, but it has also given me the opportunity to really slow down and reflect on myself and art process. At the start of quarantine, I was alone in a tiny apartment in Chicago, which really affected my mental health. I'm very grateful to have had a space in my apartment to make art. Now, I'm back home in TN for a bit working in my garage, AKA my makeshift studio space. I have a very deep appreciation for those who are in art therapy, because creating is truly a gateway to your mind and emotions. Quarantine has helped me think on my toes when I was out of supplies and trapped in a space with only the stuff around me. It taught me how to experiment more with materials and techniques and also reflect on my past and present emotions through my art."
Seeing that you are in school, do you ever feel restricted/limited to what you can create? Do you feel that being in a structured environment like college affects your desire to be creative?
"Art school isn't for everyone. If you go, you need to give 100% of your time and dedication. Although there are assignments and rules, those rules are made to be broken. That is the best way you will learn and discover. I take in what I learn, but I somehow spin the assignment to fit in with how I want to approach it. The school that I am attending is very interdisciplinary, which pushes you to non-conform and break the rules."
I think for most artists, our first moment of creating stems from childhood. How do you think your upbringing has affected the way you express yourself?
"Many people will point out that my art is very colorful and childish, however a lot of it has darker, more self-deprecating meanings to it. I'm really drawn to the idea of covering up dark stories with visual happiness. I also believe that once you step into the studio to create, its like walking into a secret garden. An environment enriched with experimentation of past mistakes growing into blooming flowers. Once I work, I block out the heavy weighted responsibilities of adulthood. Creating is letting out my inner child. It's a space where I am free from the overbearing reality of being an adult. I try not to glorify the demons that put me down, only to glorify my own purpose."
Being a young adult during these times, I sometimes feel this pressure from social media/family/social circles/traditional media/etc. to always know what I'm doing and find myself comparing my work to others. Do you/Have you ever felt this pressure? How do you cope?
The 21st century has proven that many individuals become self-made with the power of the internet through shares, streams, likes, and posts. Posting on social media has helped me so much with my brand and has given me opportunities to take my career further. Honestly, I don't really let myself get bothered by seeing other artists on social media, but I would be lying if I said I didn't compare myself sometimes. Most of my life has been consumed with the latest technology. Seeing many people who are aspiring artists, musicians, comedians, etc. around my age have an advantage with these social media platforms to brand themselves and share their ideas, and that's very cool."
For me, I can only create at night and/or after listening to a bunch of music or binge-watching cartoons. How would you describe your creative process?
I have a 2020 '10 Work Commandments' list that I like to live by.
1. Work on one body of work at a time until finished.
2. When you're in the studio, think only of the studio. Time limits on social media and phone breaks
3. Don't be nervous. Work calmly, joyously, and recklessly on whatever is on hand.
4. Work according to program and not according to mood. Plan work week/ make a schedule and stick with it.
5. When you can't create, you can work, write, and/or research.
6. Don't be a draught horse. Work with pleasure.
7. Cement a little everyday, rather than add new fertilizers.
8. Keep human
9. Work with pleasure only
10. Discard the program when you feel like it. Take a walk and break if you really need to get out of the studio space.
11. Forget the paintings you want to paint. Think about the ones you are painting."
Looking at the pieces for the Evergreen Manor, I noticed that you incorporate a lot of squares and stitching into your work. Do you usually experiment with different shapes and textures? How would you describe your approach to art?
"That body of work was my first collection of really experimenting with all types of materials and mediums. It's kind of funny that a whole collection of work has helped me understand to experiment and take on future, and now current, work. When I work, I try not to overthink and really trust my intuitions. Shutting off any form of criticism and thinking is the best approach for me while I'm working."
I feel as creatives, we grow and evolve everyday. Looking at old poems and stories that I have written, I notice a pattern with my style: it always changes. If you were to compare the first piece of art you made to the most current piece of art, how have you evolved as an artist?
"I'm always comparing my art I make from a month ago to the art that I'm making now. I'm my biggest critic (in a good way). I was thinking about this the other day. The more practice and work I put in consistently, I see more growth, and it's exhilarating. Sometimes when I work, I like to hang up old work and take techniques that I thought were valuable and incorporate it in the piece that I am working on."
Finally, I wanted to end this interview with something that I heard from a streamer that I was watching. Essentially, the person was saying that as humans, we are all writing a book and with each new day, we turn the page. Everyone is on their own chapter and developing their own narrative. Where would you say that you are in your book? Also, how would you imagine the next chapter in your story?
I couldn't really predict how my future will look like, but I try to manifest a positive dream on what I want it to be like. I believe that if you put in dedication and hard work into your passion, you will prosper. I try to surround myself with those who inspire me to always create and learn. That is the most important thing to have."
Grace Hall can be found on Instagram @gracemhall and on her personal website: thegracehall.com